The most recent Oscars provided a huge moment for celebrity endorsements.  Ellen DeGeneres' selfie, the selfie seen around the world, and the most popular retweet of 2014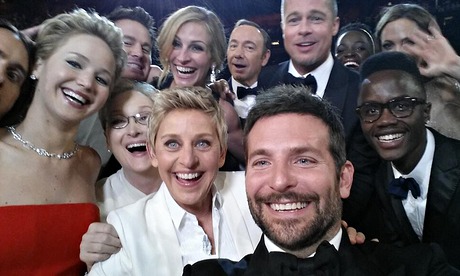 was a moment of product placement gold. Samsung Electronics was the recipient of this golden moment as DeGeneres used her Samsung Galaxy Note 3 to snap the celebrity saturated shot which included these A-listers among others: Jennifer Lawrence, Kevin Spacey, Meryl Streep, Jared Leto, Lupita Nyong'o and Bradley Cooper.
This viral hit was so viral that it knocked Twitter's service offline, albeit temporarily, and surpassed the re-Tweeting record set by President Obama in 2012 when he won reelection. This product placement dream of a shot was retweeted a staggering 700,000 times, and we're not talking about total retweets ever made of this photo. It was retweeted 700,000 times in the first half hour alone. The first half hour, people. That's staggering! The very night the shot was taken, DeGeneres quipped that the photo had "broken Twitter" causing the photographer and subjects of the photo to make history. As most popular Tweet ever, this photo taken with the Samsung indicates what a smart move the company made in bringing DeGeneres onboard as a celebrity spokesperson. As celebrity spokesperson, it was DeGeneres' job to speak highly of Samsung both in person, on line, and on television. In addition to speaking, it was her job to be seen using the brand's range of products.
One way DeGeneres was to promote Samsung is through product placement. Product placement is when, in a commercial, television show, movie, or photo, a celebrity includes a reference to a product or service or displays the product itself through actual use of it or through its sitting in plain view. In this way, the product becomes part of the commercial, show, movie, or photo, and it is thus promoted to the public. As a marketing strategy, product placement stand out for its attempt–often successful–to gain benefit from the context or environment in which the product is displayed. A recent study discovered that two thirds of advertisers use product placement with the majority coming in television commercials. The goal is to forge an emotional connection between the consumer and the product.
And DeGeneres certainly did great this emotional connection between current and prospective customers and Samsung as evidenced by the wild popularity of the selfie through its monstrously popular reTweeting. DeGeneres is a loveable television personality, a famous person. A Samsung photo featuring her alone would have been enough to gain customers for Samsung. Add the other television stars from the venerable Streep to the comic and droll (now made even more famous by Netflix's hit "House of Cards) to the hot new ingenue and beauty icon Nyong'o. These people are not only talented actors and actresses–drawing our admiration for their work on stage and on screen–but they are celebrities whose looks and lifestyles the public idolizes, hanging on their every quoted word and following their ever posted photograph.  People love celebrities because they view these celebs as simultaneously different from them–to be idolized and admired–and like them–to be emulated. So, I can simultaneously never be like them–never as fabulous looking or as well dressed or as thin or as famous–and be just like them–through the use of the same products, such as the Samsung Galaxy Note 3 in this case. Hence the brilliance of celebrity endorsements.